Galerie-photo de l'Institut Lumière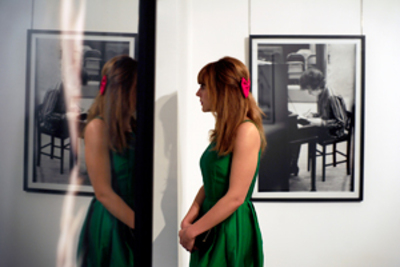 3 rue de l'Arbre Sec
69001 Lyon

Accès
Metro A ou C, Station Hôtel de ville - Louis Pradel
Bus : C3, C13, C14, C18, 313, PL2, PL4 Arrêt Hôtel de Ville - Louis Pradel
Stations
Google Maps
Inaugurated during the Lumière festival 2012 with the exhibition " Bob Dylan by Jerry Schatzberg ", in the presence of the New York filmmaker and photographer Jerry Schatzberg, this satellite gallery in the city center is entirely dedicated to cinema photography.

The gallery's last exhibition, "La Nouvelle Vague 1958-1968, Photographs by Raymond Cauchetier" was a great success, with over 3000 visitors.
From September 12 to October 25, 2014, see the new exhibit dedicated to cinema photographs by José Maria Prado, Director of the Filmoteca Española and a friend of Pedro Almódovar's.


WIth the support of BNP Paribas


All festival venues
Theatres
1
>
Institut Lumière, Lyon 8ème
2
>
Pathé Bellecour, Lyon 2ème
3
>
Cinéma Comœdia, Lyon 7ème
4
>
CNP Terreaux, Lyon 1er
5
>
Pathé Cordeliers, Lyon 2ème
6
>
Cinéma Opéra, Lyon 1er
7
>
UGC Ciné Cité Confluence, Lyon 2ème
8
>
UGC Ciné Cité internationale, Lyon 6ème
9
>
UGC Astoria, Lyon 6ème
10
>
Pathé Vaise, Lyon 9ème
11
>
Cinéma St-Denis, Lyon 4ème
12
>
Cinéma Bellecombe, Lyon 6ème
13
>
CinéDuchère, Lyon 9ème
14
>
Cinéma Les Alizés, Bron
15
>
Cinéma Gérard-Philipe, Vénissieux
16
>
Le Zola, Villeurbanne
17
>
Ciné Caluire, Caluire
18
>
Le Méliès, Caluire
19
>
Ciné-Rillieux, Rillieux-la-Pape
20
>
Pathé Carré de Soie, Vaulx-en-Velin
21
>
Ciné Toboggan, Décines
22
>
Ciné-Meyzieu, Meyzieu
23
>
Le Scénario, Saint-Priest
24
>
Le Polaris, Corbas
25
>
Ciné'Mions, Mions
26
>
Ciné La Mouche, Saint-Genis-Laval
27
>
Cinéma MDP, Pierre-Bénite
28
>
Ciné Mourguet, Sainte-Foy-lès-Lyon
29
>
IRIS, Francheville
30
>
Espace Culturel Eole, Craponne
31
>
Cinéma Le Lem, Tassin la Demi-Lune
32
>
Ecully Cinéma - Centre Culturel (Écully)
33
>
Alpha Cinéma, Charbonnières-les-Bains
34
>
Ciné Aqueduc (Dardilly)
35
>
Cinéma Rex, Neuville-sur-Saône

Other venues

36
>
Halle Tony Garnier (Lyon 7ème)
37
>
Amphithéâtre – Centre de Congrès (Lyon 6ème)
38
>
L'Auditorium de Lyon (Lyon 3ème)
39
>
Maison d'arrêt de Corbas (Corbas)
40
>
Hôpital Femme Mère Enfant (Bron)
A
>
Parc Lumière / Village de jour (Lyon 8ème)
B
>
La Plateforme / Village de nuit (Lyon 3ème)
C
>
Galerie-photo de l'Institut Lumière (Lyon, 1er)
D
>
Brocante du festival (Lyon 8ème)
And in the Grand Lyon
Médiathèque Jean-Prévost, Bron, Bibliothèque municipale, Caluire-et-Cuire, Médiathèque, Champagne-au-Mont-d'Or, Salle Entr'vues, Charbonnières-les-Bains, Médiathèque, Charbonnières-les-Bains, Espace Culturel Pierre-Poivre, Chassieu, Médiathèque l'Odyssée, Craponne, Médiathèque, Le Toboggan, Décines, Médiathèque - IRIS, Francheville, MJC Saint Rambert Ile Barbe, Lyon 9, Médiathèque – L'espace culturel François Mitterrand, Meyzieu, Médiathèque Jacques Prévert, Mions, Médiathèque La Mémo, Oullins, Espace Charles Baudelaire, Rillieux-la-Pape, Bibliothèque Léopold Sédar Senghor, Sainte Foy-lès-Lyon, Salle l'Ellipse, Sainte-Foy-lès-Lyon (avec Ciné-Banlieue), Maison du Livre, de l'Image et du Son, Villeurbanne