Lumière Nights at the Plateforme
Every night until the wee hours (10pm-3am), La Plateforme becomes the ephemeral festival nightclub, open to the general public, festivalgoers and the festival guests. A special musical program is featured every evening. A bar, music and DJ sets, plus free entry!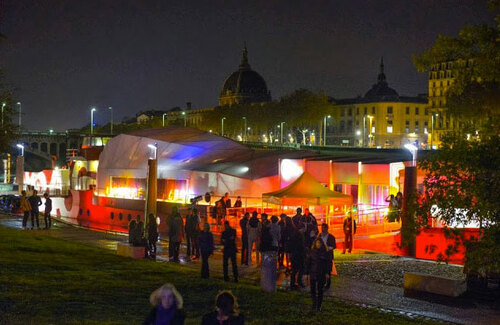 photo : Jean-Luc Mège
Get all the info on facebook: Nuits Lumière

THE PROGRAM :

Monday, October 13 :
GRAND OPENING
Dj Harry Cover

Tuesday, October 14 :
BLIND TEST
Dj Monsieur S
Holy Two (Live)

Wednesday, October 15 :
80'S SYNTHÉTISEUR
Dj Phoenix Amer

Thursday, October 16 :
ALLEZ LES FILLES (GO GIRLS!)
Dj Maria Rockmore
Minou (Live)
With the participation of BNP Paribas

Friday, October 17 :
MOVIDA POP
Dj Tatie Charby

Saturday, October 18 :
PEDRO HEROINA
Dj Stéphane
Soirée Cosplay (Live)

Sunday, October 19 :
TO CLOSE OUT IN STYLE
Dj Connasse

With the kind participation of PIPER-HEIDSIECK Champagnes
Please enjoy alcohol responsibly.


Ce site nécessite l'utilisation d'un navigateur internet plus récent. Merci de mettre à jour votre navigateur Internet Explorer vers une version plus récente ou de télécharger Mozilla Firefox. :
http://www.mozilla.org/fr/firefox