Set up in a new area but still in the heart of the Village, the festival bookstore is open daily from 10:30am to 9pm. During a break or between screenings, come and explore the themes of what we wanted to be a real cinema bookshop, with over 300 references!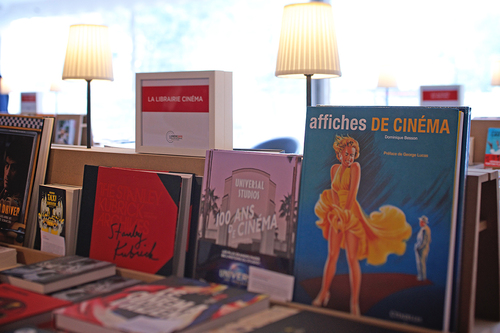 Photo : Loic Benoit
To extend the enjoyment of your films, the Lumière festival lineup is 2014 is naturally in the spotlight. Browse the many works on directors honored this year, from Pedro Almodóvar to Frank Capra, from Claude Sautet to Sergio Leone or Michael Powell. You can also look for books on actors who have left a lasting mark on their era such as Patrick Dewaere or Romy Schneider.
With a selection of works by festival guest authors, discover the writings of Patrick Brion, Michel Ciment...
A section called "From paper to the screen" features books adapted to film and screened for Lumière 2014, for those who love reading about films as much as watching them.
A selection of cinema reviews lets you immerse yourself in the latest news about obscure movie theaters and cinephilia: Positif, Cahiers du cinéma, Jeune Cinéma, Cut, Eclipses and So Film. Plus, flip through back issues of Positif for the pleasure of diving back into the universe of Almodóvar, Sautet, or Ida Lupino!
New sections at the bookstore this year include graphic novels (BDs), film music (with a small selection of CDs), and the theme, "desire in film."
Finally, not to forget Lumière kids, the youth section is full of books that tell the story of film, its secrets of production or its history, short stories to discover some big names of film, and cinema-themed activity books. After all, it's never too early to start creating your own comic strips and flipbooks!
Coming soon, signings with guest authors: follow the news on the website and on our social networks!
See the scheduled book signings at the festival Village site.
Hours:
Lumière village bookstore
October 10 -19, 10:30am - 9pm