This year, the DVD boutique opens on Friday, October 10th at 7:30pm and will be open daily during the festival from 10:30am to 9pm at the Village.
Come take a stroll and check out the 4,300 DVDs this year!



A special section is devoted to the Lumière Award recipient 2014: Pedro Almodóvar's video club! It includes his filmography, his inspirations and recommendations, and other references to his universe, such as key films of the "movida" or Spanish cinema essentials.

Browse the films on this year's lineup, from Claude Sautet to Frank Capra, along with works of special guests who will introduce their films and other personalities honored at this 6th edition of the festival like Faye Dunaway.

A fan of Italian films or sci-fi? The boutique is divided into 15 carefully chosen genres. Get recommendations from the British Film Institute for the "to-see-before-14" flicks, peruse the American Film Institute's "Best films of all time" and discover Bertrand Tavernier's personal picks, a first!

Die-hard cinephile? You'll find rare offbeat films in a section dedicated to reissues less than four months old. And for the regulars of the festival, know that the 2014 market will include over 2,500 renewed references.


This year, you can familiarize yourself with the René Chateau collection, available in its entirety for the festival Lumière. Movies of the American distribution company Milestone, published in France by Les Films du Paradox, will be available as well, plus other well-established or up-and-coming video editors.

We haven't forgotten Blu-rays: The selection will be in its own special section for its loyal fans.

At the DVD market, there are also exclusive films, signings, events, special guests… stay up to date though our website and on social media!

And finally, the Lumière team will be happy to help you with info and advice!


Photos : Alain Leroy
Opening hours:
DVD market in the village
Friday, October 10 from 7:30pm to 1am
October 11-19 from 10:30am to 9pm


DVD Signing:
Tuesday, October 14: Signing Event: FAT CITY
To celebrate the rerelease of Fat City by Wild Side, available exclusively at the Lumière DVD boutique, meet journalist Samuel Blumenfeld, author of Le dernier combat, and the editing house team. This exceptional collector's box set contains the remastered DVD and Blu-Ray versions of the film by John Huston + the book Le dernier combat. An event not to be missed!

The boutique sections: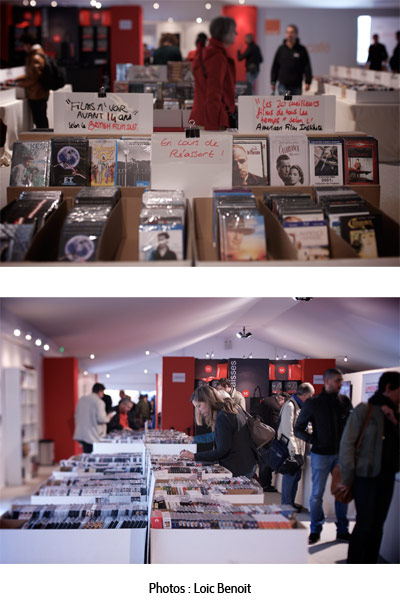 - "The Pedro Almodóvar video club:" His filmography, his inspirations and recommendations, and other references in his brightly-colored universe
- "The Program Lineup" features films to be screened at the festival this year and works of special guests and personalities honored at this 6th edition
- Films to see by age 14 according to the British Film Institute
- The top 20 films of all time according to the American Film Institute
- Bertrand Tavernier's carte blanche! Check out the exclusive picks of the filmmaker!
- DVD + book gift packs
- Blu-ray
- New releases
- New releases on Blu-ray
- Timeless classics
- Comedy
- Drama
- Dramatic comedy
- Action / Adventure
- Period films
- Kids/ Family
- Musical comedies
- Italian Cinema
- Asian Cinema
- Science-Fiction / Fantastic/ Horror
- Thriller / Suspense / Film Noir
- Western
- War
- Documentary / Experimental