Danièle Heymann
Succeeding Jean-Jacques Bernard and Serge Kaganski, journalist and film critic Daniele Heymann will be presented with the Bernard Chardère 2014 award next week.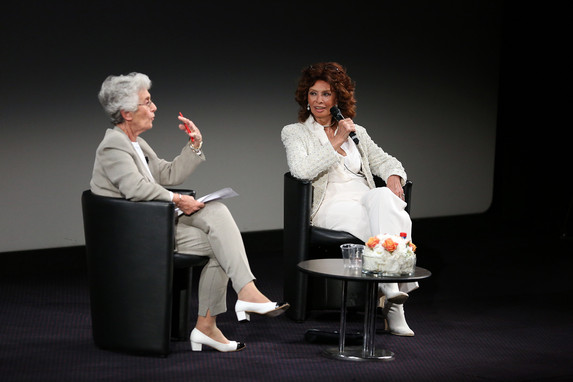 The Bernard Chardère award, named after the Lyonnais founder of the review Positif in 1952 and the first director of the Institut Lumière, is presented during the week of the Lumière festival. Reflecting qualities Chardère exemplified during his career, the distinction is given to a person for "her contribution to the profession as a journalist and film critic, her passion for the cinema, her style, her curiosity, and her humor." In short, the perfect description of Danièle Heymann.
Daughter of filmmaker Claude Heymann (1907-1994), who was also a co-screenwriter of Ophuls and Hernri Calef and an assistant to Renoir and Buñuel, Danièle Heymann got her first paying job working at the Cinémathèque française under Henri Langlois and Mary Merson.
With a long experience in cultural publications, she served as an editor in-chief at L'Express and Le Monde. In 1996, she published Le Roman de Cannes (The Novel of Cannes, TFI Editions) with Jean-Pierre Dufreigne to celebrate the 50th anniversary of the festival; from1977 to 2006, she oversaw the annual publication of L'Année du cinéma (The Year of Cinema, Calmann Levy). She currently pens the cinema column for weekly magazine Marianne, and is a commentator for France Inter radio's Le masque et la plume (The mask and pen).
Wherever she goes, Danièle Heymann asserts her unwavering taste, never playing favorites and sticking to her strong convictions, while still leaving room for warmth and enthusiasm. Lumière will thus welcome a generous woman, whose authority incorporates both tolerance and doubt and whose role in the profession has only expanded over the years. Today, Danièle Heymann writes for Marianne with that same energy, aiming to set an example of high standards and pedagogy, like her participation in Sunday evening's La Masque et la Plume, where we hear her unflinchingly go head-to-head with upstart critics.
Though she has mainly devoted her professional life to the cinema, Danièle Heymann has also written songs and literature.
A member of the Cannes Film Festival Jury in 1987 (Palme d'Or: Sous le soleil de Satan by Maurice Pialat, see below), she continues to be involved in Cannes, hosting press conferences and talks.
As a guest of the Lumière festival, Danièle Heymann will attend Opening night. Bernard Chardère will present the award to her the following day.
Read her column at
http://www.marianne.net/Les-classiques-contre-attaquent_a225420.html
Listen to her at
http://www.franceculture.fr/emission-un-autre-jour-est-possible-daniele-heymannpetite-archeologie-de-la-critique-du-cinema-serie
http://www.franceinter.fr/emission-le-festival-en-18-palmes-sous-le-soleil-de-satan-1987-avec-daniele-heymann
---
Being a Film Critic
By Danièle Heymann
When my father, the filmmaker Claude Heymann was six years old, he said, "I would like to be God so I could go to the cinema without paying." The love of the cinema is thus genetic, congenital, hereditary for me. Being a film critic is another story. Who gave me the right, the authority, to evaluate, judge, criticize? I have incessantly asked myself the question without reaching an acceptable conclusion. It should be said that my first experience in the domain was traumatic. I was young; it was long ago, during the last century. At France-Soir where I started out, a multitasking rookie for the Entertainment section, Robert Chazal, the official film critic, a man of great stature and high integrity, had taken me under his wing. "Would you like to practice writing some short review notes?" he asked me one day. I was exalted. I was shaking. I hopped to it. One little text, two little texts, so far so good. The third text flashed danger. I had to briefly write a review of a film starring Roger Pierre and Jean-Marc Thibault. It was a comedy, of course, which I obviously did not find funny. In a couple of brutal lines, dictated to the secretaries at night, I fully applied myself. As soon as the newspaper came out, I received an apologetic telephone call from my mentor, Robert Chazal: "My poor little girl, your career as a film critic at France-Soir is over. Did you not know that Roger Pierre and Jean-Marc Thibault are friends of the publication?" I did not... But I can earnestly say that this kind of… friendly pressure helped save me, first at L'Express and then at Le Monde. And at Marianne today. For me, however, the doubt remained, the question, "Who made ​​you critic?" And then Jérôme Garcin asked me to join his team, and somehow he reassured me. Since then, I have found my place in the… club? The troop? The circle? The group? The gang? Anyway, I'm part of Le Masque et la Plume.
---