---
Posté le 19.10.2014 à 11h41

---
Time flew by without us even noticing… We spent an hour with Isabella Rossellini who discussed her parents, the legendary couple Roberto Rossellini and Ingrid Bergman, her rich and varied career, and her Green Porno series, dedicated to the sex lives of animals!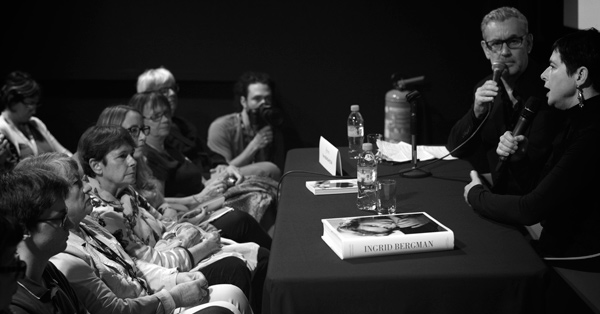 Photo : Loïc Benoit

Responding to Yves Bongarçon's questions, Isabella Rossellini expressed all her love for her parents and for their work, reminding us that she had lost them before the age of 30. She is determined to preserve her father's films, some of which are on the brink of extinction. "Mom," she said, "liked to act in different genres of films; she could work in the five languages ​​that she spoke without an accent, like many Swedes. I think she was unique in having this ray of culture."
The actress lent herself easily to the Q&A session with the audience, who particularly wanted to know more about her collaboration with David Lynch. She said when they first met, Lynch asked insistently for the phone number of Helen Mirren (with whom Isabella had filmed); he wanted to offer her the role of Dorothy Vallens in Blue Velvet. Lynch, who had initially dismissed Isabella Rossellini with a simple, "You look awfully like Ingrid Bergman," ended up sending her the script. Isabella asked to read lines with a real partner, Kyle MacLachlan. After three hours of takes, Lynch was convinced and she was hired, also becoming his real life love interest for a time. "Lynch," she continued, "is a director who knows what he's looking for in his head, but doesn't talk about it. His emotions indicate the direction to take."
Asked about the famous nude scene in Blue Velvet where a traumatized and beat up Dorothy Vallens wanders in the street with no clothes, Isabella Rossellini says she and Lynch were inspired by the famous photograph by Nick Ut of a small Vietnamese girl fleeing the town during a napalm bombing. "We have to understand that she had run away after being raped," says the actress. "I told myself that if I hide a little, she won't be broken. So I adopted the gesture." A very difficult scene to shoot because in the small American town where the team was set up, people had organized picnics to watch the filming as a family... The filmmaker tries to warn the audience that the scene that they will be shooting is disturbing, but nobody leaves. The next day, the police inform Lynch that he has lost his license to shoot in the streets...
Isabella Rossellini speaks with delight about her collaborations with young directors. Denis Villeneuve, for example, with whom she filmed Enemy, "is the nicest director I've ever known." One day, while they were still working, Villeneuve told the actress, "It's 5 o'clock, I have to go pick up my kids from school!" Unheard of, according to Isabella Rossellini, absolutely charmed. As for James Gray (Two Lovers), she was moved by his belief that the cinema can change people's lives. Before the shooting, he rented a screening room at his own expense, in order to show his team a neorealist film by Roberto Rossellini.
"Robert Redford has done a lot for the cinema. With Sundance, he tries to do experimental things." It is for Redford's festival that Isabella Rossellini suddenly becomes a filmmaker. Inspired by the surprising sexuality of animals, she shoots 40 two-minute films, today collected in a series, and a monologue entitled Bestiaire d'amour. Why then, does she not become a director? "Because of money. I have two children, no husband, I cannot afford it. I also saw David Lynch, Martin Scorsese, Guy Maddin and my father in a constant struggle." What about the theater then? "I do a little. I have worked with Bob Wilson, and now I have Bestiaire d'amour. But the cinema was easier with my two children. Moreover, I have an accent in every language I speak. I feel more comfortable expressing emotions than describing them. The theater is based upon the voice, and I do not have a language that is mine."
Elsa Colombani