---
Posté le 20.10.2014 à 16H20

---
"I always dreamed something like this would happen, and it has happened in Lyon."
-Pedro Almodóvar.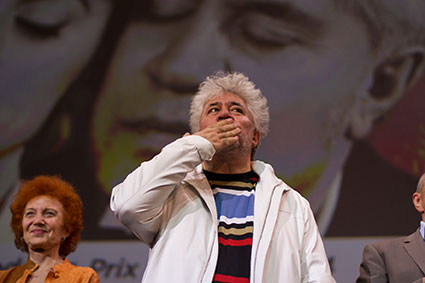 © Institut Lumière / Photo Lea Rener
To the beat of Resistiré, the up-tempo anthem of the 6th edition of Lumière, Pedro Almodóvar sauntered down the aisles, signing autographs, greeting admirers in his path with the roaring applause of a crowd on its feet. As the Spanish filmmaker took his seat in the hall, the 450 volunteers along with the Institut Lumière and Lumière festival teams joined Thierry Frémaux on stage. After the festival director expressed his thanks to all of them for their exemplary work, he announced an innovation this year: the election for Best Film screened at the festival, voted by students from the region. The "Lumière High School Prize" ended in a tie, bestowing the Best Film award to both It's a Wonderful Life by Frank Capra and High Heels by Pedro Almodóvar.
It was then Bertrand Tavernier and Gérard Collomb's turn to join the group on stage. The Mayor of Lyon and President of Greater Lyon officially proclaimed the city's commitment to a 7th edition of Lumière next year. Bertrand Tavernier went even further in his comments, praising the growing audiences and their expanding interest at the screenings, hardly containing his enthusiasm: "It's like a shot of vitamins for at least a year!" Thierry Frémaux then added that the festival is also a place of activity and exchange for the film industry with the Classic Film Market, where buyers and sellers from around the world have made deals that will give heritage films a new life. The festival director also saluted intelligent cinephiles who allow films to continue to exist and gave credit to filmmakers like Pedro Almodóvar, a director who keeps great classics alive in his own works.
It was time for the filmmaker to make his way to the stage, accompanied by Marisa Paredes, under appreciative and eager applause! Arriving in the middle, Almodóvar greeted the volunteers before addressing, with deep feeling, all present: "My heart is overflowing with emotion. I dreamed that something like this would happen to me, and it has happened to me in Lyon." With a Spanish flag unfurled in the audience, Almodóvar asserted his belief that the Lumière festival will last a century, and that, in celebrating him as a filmmaker, the festival has honored and recognized all of Spain and its culture. Finally, the elegant Marisa Paredes took to the microphone and pronounced an iconic phrase from the film All About My Mother (screened a few moments later), "I have always had faith in the kindness of strangers!"
All week long in Lyon, keen audiences of strangers did indeed show Pedro Almodóvar how he has created an amazing body of work, how much that work matters, and how his films will, and must, continue!
Photo gallery of the closing ceremony:


La Halle Tony Garnier

Photo Copyright Loïc Benoit

La Halle Tony Garnier

Photo Copyright Olivier Chassignole

La Halle Tony Garnier

Photo Copyright Sandrine Thesillat - Jean-Luc Mège

Édgar Ramírez et Thierry Frémaux

Photo Copyright Léa Rener

Édgar Ramírez

Photo Copyright Anouck Nicolas - Jean-Luc Mège

Christian Carion

Photo Copyright Léa Rener

Costa-Gavras

Photo Copyright Sandrine Thesillat - Jean-Luc Mège

Gérard Collomb

Photo Copyright Léa Rener

Marisa Paredes

Photo Copyright Olivier Chassignole

Marisa Paredes

Photo Copyright Jean-Luc Mège

Marisa Paredes

Photo Copyright Léa Rener

Marisa Paredes

Photo Copyright Anouck Nicolas - Jean-Luc Mège

Thierry Frémaux et Pedro Almodóvar

Photo Copyright Loïc Benoit

Pedro Almodóvar

Photo Copyright Sandrine Thesillat - Jean-Luc Mège

Pedro Almodóvar

Photo Copyright Jean-Luc Mège

Pedro Almodóvar

Photo Copyright Jean-Luc Mège

Pedro Almodóvar

Photo Copyright Olivier Chassignole

Pedro Almodóvar et Marisa Paredes

Photo Copyright Loïc Benoit

Pedro Almodóvar et Marisa Paredes

Photo Copyright Olivier Chassignole

Pedro Almodóvar et Marisa Paredes

Photo Copyright Loïc Benoit

Bertrand Tavernier, Pedro Almodóvar et Marisa Paredes

Photo Copyright Olivier Chassignole

Bertrand Tavernier et Pedro Almodóvar

Photo Copyright Loïc Benoit

Bertrand Tavernier et Pedro Almodóvar

Photo Copyright Loïc Benoit

Pedro Almodóvar

Photo Copyright Loïc Benoit

Pedro Almodóvar

Photo Copyright Loïc Benoit

Bertrand Tavernier et Pedro Almodóvar

Photo Copyright Loïc Benoit

Bertrand Tavernier, Pedro Almodóvar, Marisa Paredes et Gérard Collomb

Photo Copyright Bastien Sungauer

Bertrand Tavernier, Pedro Almodóvar et Marisa Paredes

Photo Copyright Anouck Nicolas - Jean-Luc Mège

Pedro Almodóvar et Marisa Paredes

Photo Copyright Léa Rener

Bertrand Tavernier, Pedro Almodóvar, Marisa Paredes et Gérard Collomb

Photo Copyright Anouck Nicolas - Jean-Luc Mège

Pedro Almodóvar

Photo Copyright Olivier Chassignole

Costa-Gavras

Photo Copyright Olivier Chassignole

Costa-Gavras

Photo Copyright Sandrine Thesillat - Jean-Luc Mège

Chema Prado, Christian Carion

Photo Copyright Jean-Luc Mège

Édgar Ramírez

Photo Copyright Anouck Nicolas - Jean-Luc Mège

Édgar Ramírez

Photo Copyright Bastien Sungauer

Marisa Paredes

Photo Copyright Léa Rener

Pedro Almodóvar

Photo Copyright Olivier Chassignole

Pedro Almodóvar

Photo Copyright Olivier Chassignole

Les bénévoles

Photo Copyright Sandrine Thesillat - Jean-Luc Mège

Les bénévoles

Photo Copyright Sandrine Thesillat - Jean-Luc Mège

L'équipe de l'Institut Lumière et les bénévoles

Photo Copyright Anouck Nicolas - Jean-Luc Mège

L'équipe de l'Institut Lumière et les bénévoles

Photo Copyright Loïc Benoit

Les bénévoles

Photo Copyright Anouck Nicolas - Jean-Luc Mège

Bénévole

Photo Copyright Bastien Sungauer

Les bénévoles

Photo Copyright Jean-Luc Mège

Remise du Prix Lycéen

Photo Copyright Sandrine Thesillat - Jean-Luc Mège

Remise du Prix Lycéen

Photo Copyright Sandrine Thesillat - Jean-Luc Mège

Thierry Frémaux, Bertrand Tavernier et Gérard Collomb

Photo Copyright Sandrine Thesillat - Jean-Luc Mège

Gérard Collomb

Photo Copyright Sandrine Thesillat - Jean-Luc Mège

Thierry Frémaux, Pedro Almodóvar et Gérard Collomb

Photo Copyright Sandrine Thesillat - Jean-Luc Mège

Pedro Almodóvar et Marisa Paredes

Photo Copyright Léa Rener

Pedro Almodóvar et Marisa Paredes

Photo Copyright Léa Rener

Pedro Almodóvar

Photo Copyright Sandrine Thesillat - Jean-Luc Mège

Pedro Almodóvar et Marisa Paredes

Photo Copyright Sandrine Thesillat - Jean-Luc Mège

Pedro Almodóvar et Marisa Paredes

Photo Copyright Sandrine Thesillat - Jean-Luc Mège

Marisa Paredes

Photo Copyright Sandrine Thesillat - Jean-Luc Mège

Pedro Almodóvar et Marisa Paredes

Photo Copyright Anouck Nicolas - Jean-Luc Mège

Pedro Almodóvar et Marisa Paredes

Photo Copyright Anouck Nicolas - Jean-Luc Mège

Pedro Almodóvar, Marisa Paredes et Gérard Collomb

Photo Copyright Anouck Nicolas - Jean-Luc Mège

Pedro Almodóvar et Marisa Paredes

Photo Copyright Anouck Nicolas - Jean-Luc Mège

Pedro Almodóvar et Marisa Paredes

Photo Copyright Bastien Sungauer

Thierry Frémaux, Marisa Paredes, Pedro Almodóvar et Bertrand Tavernier

Photo Copyright Jean-Luc Mège

Pedro Almodóvar, Marisa Paredes et Gérard Collomb

Photo Copyright Léa Rener

Pedro Almodóvar

Photo Copyright Léa Rener

Le public de la séance de clôture

Photo Copyright Sandrine Thesillat - Jean-Luc Mège

Le public de la séance de clôture

Photo Copyright Loïc Benoit

Pedro Almodóvar

Photo Copyright Anouck Nicolas - Jean-Luc Mège