---
PostED THE 16.10.2014 AT 12:47PM

---
Present since the opening of the festival, Anne Le Ny was among Thierry Frémaux's guests on Wednesday for his ritual morning "mâchon" at Chez Georges, a legendary tavern in the Opera district of Lyon.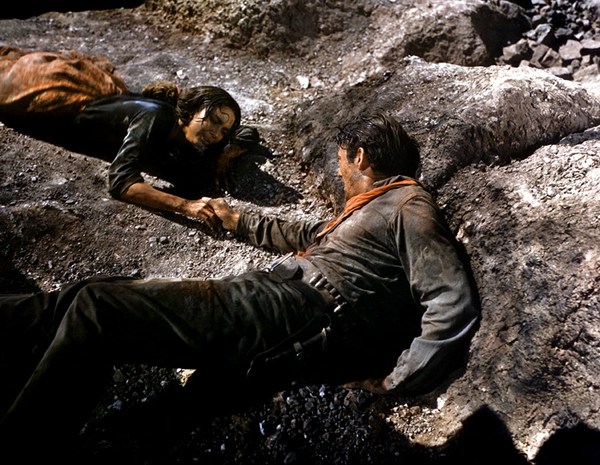 In the midst of this moment of culinary delight, she could daydream about cinematic pleasures, like going to listen to Bertrand Tavernier at the Institut Lumière, then introducing a Frank Capra film from the retrospective to the audience. In between, though, Laurent Gerra seated at her table, points out Anne Le Ny's love… of westerns… Time to hit record on the tape machine!

What film gems have you come to uncover this week?

Anne Le Ny : I'm an ardent fan of the cinema of Michael Powell's, whose body of work is lost on DVD. I discovered Peeping Tom (1960) on the big screen and it was just fabulous. For similar reasons, I waited years for the Institut Lumière to screen Black Narcissus.

Laurent Gerra tells us you're an aficionada of westerns. Isn't that usually thought of as a genre for "guys?" Tell us about it.

A.L.N : I admit, a girl who loves westerns is not very common, and I experienced it again not too long ago at the Cinémathèque, where I went to see Duel in the Sun by King Vidor (1946) with Gregory Peck and Jennifer Jones. A beautiful film, bordering on kitsch today, in terms of form.
How did you develop this passion for the genre?

A.L.N. : During my childhood, first through television, which broadcast and rebroadcast these beautiful films. I got very attached to the characters (James Stewart for example) through their voices; dubbing was particularly well done at the time. It also remains so well done, that they are among the few foreign films I can watch dubbed in French. No problem.
And at the film theater?

A.L.N. : I would often go with my father. We lived in the suburbs, and went to the Action movie theaters which screened predominantly American genre films, western, thrillers... It was a time when we went to see "a Bogart, a Wayne" and it was not until years later that we realized that behind them were great directors: Hawks, Vidor, Huston...

Thierry Frémaux asked you to present Frank Capra's State of the Union (1948). Why is this not one of his more iconic films?

A.L.N. : First, because I had not seen it in a long time and I had a positive memory about it. The second time I saw it, it was rather disappointing; the film has aged, its tone is as dark as Mr. Smith Goes to Washington is bright. And yet State of the Nation remains a very interesting film, considered a bit like Capra's swan song. It's a fable about power with Spencer Tracy, Katharine Hepburn and Adolphe Menjou, an actor who was already well known for his anti-communist stance in the pre-McCarthyism years.
Any new projects?

I'm writing my next film and in the meantime I'll play the actress again for Audrey Estrougo in her film Taulardes, with Sophie Marceau in particular. It's based on a true story and on the knowledge the director has of the prison world; Audrey once ran workshops for inmates...

Carlos Gomez