---
PostED THE 14.10.2014 AT 10:53AM

---

« I see a deeply human person who expresses herself. »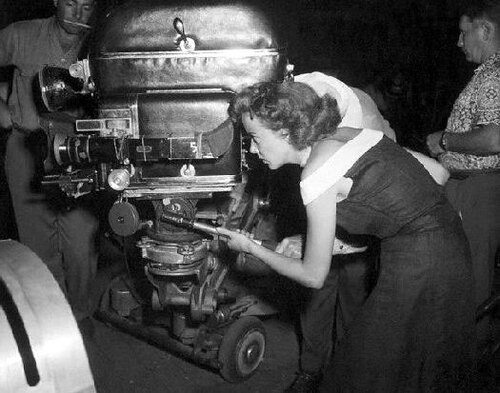 What was your first encounter with the actress and filmmaker Ida Lupino?
Pierre Rissient : My first contact with Ida Lupino was by telephone. I was a big fan of the films she had directed. So I went to meet her in 1966 in Los Angeles. It was at a restaurant bar called El Padrino. I arrived early, but she was already there. I realized very quickly that she had had a few drinks. She asked me to sit on the side of her better ear. Polio had damaged one of her ears when she was young and she still had a few scars. It made ​​her vulnerable and moving. Speaking of which, suddenly, very gently, she interrupted me to confess, "Peter, you'll have to excuse me. I've had a few drinks because I'm very moved that a young French film buff and movie critic wants to meet me." Ida Lupino was like that- very warm, very human. She spoke only through vulnerable characters; Never Fear (1949), her second film, depicts a young woman who contracts polio.
I saw again her fifteen years later on Montana Avenue. She was living an extremely humble existence in a tiny apartment. The conversation was friendly and wonderful, but she was not a woman director who responded intellectually to her work. After that, I lost touch with her and regretted it. She died in 1995.
Could we say that as a director, she was on par with men?
P. R. : Yes, exactly. For example, she decided to make her first film, Not Wanted (1949), a story about single mothers and their children, because at the time, American puritanism was in full force, and unwed mothers and their children were treated very badly. She chose this subject through the generosity of her heart, by conviction. It's a magnificent film carried by the instinctive sense of staging and Ida Lupino's actors. The film is connected to reality. She's very direct, fluid, and clear; she has the ultrasensitive expression of an artist skinned alive, reflecting a deep humanity. Lupino approached the issue of staging without asking what it was, so the placement of her camera was just natural and right.
Why is she not more well known to the general public?
P. R. : She was not a careerist, a social climber. She was not even contemplating becoming a director at all. And initially she did not even think herself capable. She directed her first film because she took the helm from a director who had had a heart attack on the set.
---
Pierre Rissient is one of the most influential figures of international cinema. By the mid-1950s, part of the "macmahoniens" club with his high school friends, he had a passion for American filmmakers blacklisted by McCarthyism (Joseph Losey, Jules Dassin, Dalton Trumbo...). He went on to become assistant to Jean-Luc Godard, then an influential press attaché to Bertrand Tavernier, an artistic consultant, a producer and director (One Night Stand in 1977 and Five and the Skin in 1982). Pierre Rissient introduced Asian cinema to the West and discovered Jane Campion, Clint Eastwood and many other talents. In 2007, his friend Todd McCarthy, editor in chief of Variety magazine, directed the documentary, Man of Cinema: Pierre Rissient.