---
PostED THE 18.10.2014 AT 11:05AM

---
Friday night, Pedro Almodóvar received the Lumière Award 2014 during a joyful, sensual, and musical ceremony full of surprises and speeches of admiration, all of which went straight to his heart.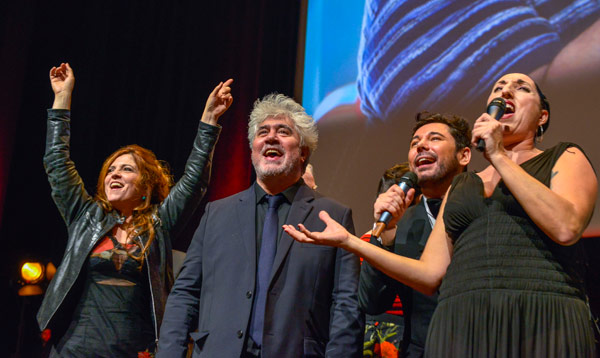 Pedro Almodóvar surrounded by Agnès Jaoui, Miguel Poveda and Rossy de Palma /
Copyright Jean-Luc Mège photographies 2014 - Institut Lumière

Keanu Reeves, Valeria Bruni-Tedeschi, Gaspard Ulliel, Edouard Baer, Valeria Golino, Michael Cimino, Louis Garrel, John McTiernan, Paolo Sorrentino, Xavier Dolan, Tahar Rahim, Guillaume Gallienne, Patrick Chesnais, Bérénice Bejo, and Juliette Binoche were just some of the international cinema stars who had come to Lyon to pay homage to Pedro Almodóvar, recipient of the Lumière Award 2014.
The Spanish filmmaker arrived accompanied by his actresses Marisa Paredes, Rossy De Palma, Elena Anaya, and brother Agustin Almodóvar, who took turns making brief and lively speeches. On the big screen, Penelope Cruz and Antonio Banderas's individual recorded messages were projected in close-up, looking straight at the camera, face to face with Almodóvar, who kept his sunglasses on a long while to hide his great emotion.
The ceremony was naturally conducted with a distinctive Spanish flair, featuring poignant flamenco songs performed by Agnes Jaoui, Camelia Jordana, and the star of Spanish music, Miguel Poveda.
Other powerful moments were included in the tribute. An elegant and collected trio, composed of Xavier Dolan, Tahar Rahim and Guillaume Gallienne, took turns reciting, amidst an impressive silence, a text written by Pedro Almodóvar on the death of his mother. Bertrand Tavernier then arrived on stage to proclaim how the work of Almodóvar had built Spain, including "bikini-ing" the country - giving it life, while tightening the strings! He was followed by Juliette Binoche, who pronounced a thank you on behalf of all the actresses and expressed gratitude for what Almodóvar films give to women, before reading alongside Almodóvar, moved and proud, the French translation of his acceptance speech.
His magnificent speech explained how, through his work, he had tried to vindicate the years of sadness that the rigid Spanish society of the time had imposed on his late mother. Filled with emotion, the whole crowd was soon on its feet, ending the ceremony by belting out the upbeat "Resistiré," (from Tie Me Up! Tie Me Down), the anthem of the unforgettable evening.
The ceremony :
Photo Copyright Sandrine Thesillat - Jean-Luc Mège

Photo copyright Loic Benoit

Photo Copyright Loic Benoit

Pedro Almodóvar

Photo Copyright Olivier Chassignole

Pedro Almodóvar

Photo Copyright Loic Benoit

Pedro Almodóvar

Photo copyright Bastien Sungauer

Pedro Almodóvar et Thierry Frémaux

Photo copyright Bastien Sungauer

Pedro Almodóvar et Thierry Frémaux

Photo Copyright Loic Benoit

Marisa Paredes

Photo copyright Bastien Sungauer

Rossy de Palma

Photo Copyright Loic Benoit

Brigitte Fossey

Photo copyright Bastien Sungauer

Keanu Reeves

Photo Copyright Loic Benoit

Keanu Reeves

Photo copyright Loic Benoit

Keanu Reeves

Photo copyright Bastien Sungauer

Bérénice Bejo

Photo Copyright Loic Benoit

Bérénice Bejo

Photo Copyright Olivier Chassignole

Xavier Dolan, Guillaume Gallienne et Tahar Rahim

Photo copyright Bastien Sungauer

Guillaume Gallienne et Tahar Rahim

Photo copyright Bastien Sungauer

Tahar Rahim

Photo copyright Bastien Sungauer

Guillaume Gallienne

Photo Copyright Olivier Chassignole

Valeria Golino

Photo copyright Bastien Sungauer

Michael Cimino

Photo Copyright Loic Benoit

Michael Cimino

Photo copyright Bastien Sungauer

Alessandra Sublet

Photo copyright Loic Benoit

Miguel Poveda

Photo Copyright Loic Benoit

Miguel Poveda

Photo copyright Loic Benoit

Aure Atika

Photo copyright Loic Benoit

Edouard Baer

Photo Copyright Loic Benoit

Edouard Baer

Photo copyright Loic Benoit

Juliette Binoche

Photo Copyright Olivier Chassignole

Juliette Binoche

Photo copyright Loic Benoit

Patrick Chesnais

Photo Copyright Olivier Chassignole

Pierre Deladonchamps

Photo copyright Bastien Sungauer

Gilbert Melki

Photo copyright Loic Benoit

Isabella Rossellini

Photo copyright Loic Benoit

Camélia Jordana

Photo copyright Bastien Sungauer

Agnès Jaoui

Photo copyright Bastien Sungauer

Laure Marsac et John McTiernan

Photo copyright Bastien Sungauer

Photo Copyright Sandrine Thesillat - Jean-Luc Mège

Photo copyright Loic Benoit

Agnès Jaoui

Photo Copyright Anouck nicolas - Jean-luc Mège

Elena Anaya, Rossy de Palma, Chema Prado et Pedro Almodóvar

Photo Copyright Olivier Chassignole

Camélia Jordana

Photo Copyright Anouck nicolas - Jean-luc Mège

Photo copyright Loic Benoit

Rossy de Palma

Photo Copyright Olivier Chassignole

Agustín Almodóvar

Photo Copyright Anouck nicolas - Jean-luc Mège

Elena Anaya

Photo Copyright Anouck nicolas - Jean-luc Mège

Elena Anaya

Photo Copyright Anouck nicolas - Jean-luc Mège

Elena Anaya

Photo Copyright Olivier Chassignole

Rossy de Palma

Photo Copyright Anouck nicolas - Jean-luc Mège

Marisa Paredes

Photo Copyright Anouck nicolas - Jean-luc Mège

Marisa Paredes

Photo copyright Bastien Sungauer

Marisa Paredes

Photo Copyright Olivier Chassignole

Elena Anaya, Rossy de Palma, Marisa Paredes et Agustín Almodóvar

Photo copyright Bastien Sungauer

Elena Anaya, Rossy de Palma, Marisa Paredes et Agustín Almodóvar

Photo Copyright Olivier Chassignole

Photo Copyright Loic Benoit

Guillaume Gallienne

Photo Copyright Anouck nicolas - Jean-luc Mège

Tahar Rahim

Photo Copyright Olivier Chassignole

Tahar Rahim

Photo copyright Loic Benoit

Tahar Rahim

Photo Copyright Anouck nicolas - Jean-luc Mège

Xavier Dolan

Photo Copyright Anouck nicolas - Jean-luc Mège

Thierry Frémaux, Miguel Poveda, Elena Anaya, Rossy de Palma, Marisa Paredes, Agustín Almodóvar et Juliette Binoche

Photo copyright Loic Benoit

Juliette Binoche

Photo Copyright Jean-Luc Mège

Juliette Binoche

Photo Copyright Anouck nicolas - Jean-luc Mège

Juliette Binoche

Photo Copyright Olivier Chassignole

Thierry Frémaux et Juliette Binoche

Photo copyright Loic Benoit
Pedro Almodóvar received the Lumière Award 2014 :
Pedro Almodóvar et Juliette Binoche

Photo Copyright Jean-Luc Mège

Pedro Almodóvar

Photo Copyright Jean-Luc Mège

Pedro Almodóvar entouré de Bertrand Tavernier, Juliette Binoche et Rossy de Palma

Photo Copyright Jean-Luc Mège

Pedro Almodóvar entouré de Gérard Collomb, Agnès Jaoui, Bertrand Tavernier et Juliette Binoche

Photo Copyright Anouck Nicolas-Jean-Luc Mège

Pedro Almodóvar

Photo Copyright Jean-Luc Mège

Pedro Almodóvar entouré de Agnès Jaoui, Miguel Poveda et Rossy de Palma

Photo Copyright Jean-Luc Mège

Pedro Almodóvar entouré de Agnès Jaoui, Miguel Poveda et Rossy de Palma

Photo Copyright Jean-Luc Mège

Pedro Almodóvar entouré de Bertrand Tavernier, Juliette Binoche, Rossy de Palma et Marisa Paredes

Photo Copyright Jean-Luc Mège

Pedro Almodóvar et Gérard Collomb

Photo Copyright Jean-Luc Mège

Pedro Almodóvar et Juliette Binoche

Photo Copyright Jean-Luc Mège

Pedro Almodóvar, Bertrand Tavernier et Gérard Collomb

Photo Copyright Jean-Luc Mège

Pedro Almodóvar

Photo Copyright Jean-Luc Mège