---
Posté le 19.10.2014 à 11h56

---
On Saturday afternoon on the Rue du Premier-Film, the festival guests were hard at work. Like last year, out came the video cameras with the back images, all the equipment... and the excited public was in attendance to watch the new remakes of the first Lumière film.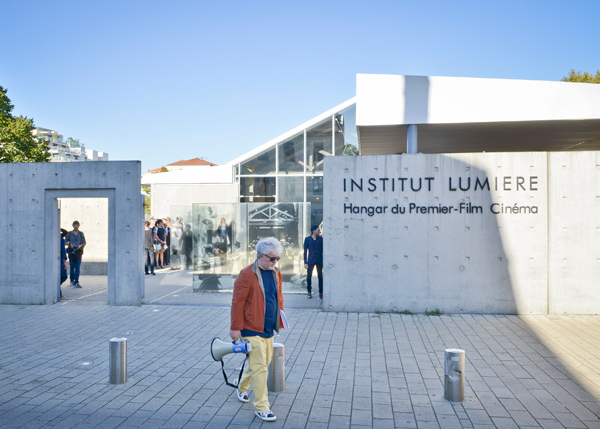 © Institut Lumière / Photo Anouck Nicolas - Jean-Luc Mège Photographies


Last year, our talented festival artists had already reenacted the workers leaving the Lumière factory for Quentin Tarantino, Michael Cimino and Jerry Schatzberg. This year, the guests can add a new line to their résumés- three, in fact, since Pedro Almodóvar, Paolo Sorrentino and Xavier Dolan have now all directed "Leaving the Lumière factory," each in his own style.
The Spanish grandee had obviously thought about his plan beforehand, pulling his brief out of a big book for the participants gathered in the main theater of the Institute. Almodóvar had not one, but two films for us to do. The first with an optimistic attitude: "You are going to leave the factory with a confident stride, proud and beautiful; then in groups of five, facing the camera, you'll stop to pose, thinking about your children, your grandchildren or your grand-nephews who will discover this film in 50 years, all while Thierry Frémaux is still holding down the Institute." Bursts of laughter.

"In the second film, on the other hand, you will leave the factory with your head down, looking depressed, like in Metropolis. You are the condemned, who cannot even think about your children, since they have starved to death..." Here, the laughter becomes slightly nervous… In four or five takes, it's a wrap.
Following Pedro, Paolo Sorrentino opts for a serious reversal of the original scenario: the director of The Great Beauty asks us not to come out of the hangar, but go inside, with our backs facing the camera After that, four iconic actresses, Marisa Paredes, Rossy de Palma, Berenice Bejo and Isabella Rossellini emerge, wearing hats with veils. And Pedro is behind them, to close out the scene.
Xavier Dolan? Despite his lack of sleep, the Quebecois prodigy has had a flash of brilliance: "You'll all leave the factory filming yourselves with your Smartphones, so later people will remember that we were living in the era of egos and networks, without the need to see or speak to anyone." It's done in a single take with no practice. Which makes perfect.
Carlos Gomez
Photo gallery:


Tournage Sortie d'usine

Photo Copyright Sandrine Thesillat - Jean-Luc Mège

Tournage Sortie d'usine

Photo Copyright Sandrine Thesillat - Jean-Luc Mège

Tournage Sortie d'usine - Pedro Almodóvar

Photo Copyright Sandrine Thesillat - Jean-Luc Mège

Tournage Sortie d'usine - Pedro Almodóvar

Photo Copyright Sandrine Thesillat - Jean-Luc Mège

Tournage Sortie d'usine - Isabella Rossellini

Photo Copyright Sandrine Thesillat - Jean-Luc Mège

Tournage Sortie d'usine - Pedro Almodóvar

Photo Copyright Sandrine Thesillat - Jean-Luc Mège

Tournage Sortie d'usine - Pedro Almodóvar et Thierry Frémaux

Photo Copyright Jacques Croizer

Tournage Sortie d'usine - Bérénice Bejo

Photo Copyright Jacques Croizer

Tournage Sortie d'usine : Isabella Rossellini et Marisa Paredes

Photo Copyright Jacques Croizer

Tournage Sortie d'usine

Photo Copyright Jacques Croizer

Tournage Sortie d'usine : Rossy De Palma

Photo Copyright Jacques Croizer

Tournage Sortie d'usine - Pedro Almodóvar

Photo Copyright Blandine Soulage Rocca

Tournage Sortie d'usine - Pedro Almodóvar

Photo Copyright Blandine Soulage Rocca

Tournage Sortie d'usine - Pedro Almodóvar

Photo Copyright Blandine Soulage Rocca

Tournage Sortie d'usine - Pedro Almodóvar

Photo Copyright Blandine Soulage Rocca

Tournage Sortie d'usine - Édgar Ramírez

Photo Copyright Blandine Soulage Rocca

Charles Berling, Xavier Dolan et Gaspard Ulliel

Photo Copyright Blandine Soulage Rocca

Tournage Sortie d'usine - Pedro Almodóvar

Photo Copyright Blandine Soulage Rocca

Tournage Sortie d'usine - Eric Lartigau, Bérénice Bejo, Marina Foïs et Charles Berling

Photo Copyright Blandine Soulage Rocca

Tournage Sortie d'usine

Photo Copyright Blandine Soulage Rocca

Tournage Sortie d'usine - Keanu Reeves

Photo Copyright Blandine Soulage Rocca

Tournage Sortie d'usine - Charles Berling et Xavier Dolan

Photo Copyright Blandine Soulage Rocca

Tournage Sortie d'usine - Jean-Pierre Marielle

Photo Copyright Blandine Soulage Rocca

Tournage Sortie d'usine - Keanu Reeves

Photo Copyright Blandine Soulage Rocca

Tournage Sortie d'usine - Rossy De Palma et Bérénice Bejo

Photo Copyright Blandine Soulage Rocca

Tournage Sortie d'usine - Bérénice Bejo

Photo Copyright Blandine Soulage Rocca

Tournage Sortie d'usine - Xavier Dolan

Photo Copyright Blandine Soulage Rocca

Tournage Sortie d'usine - Marisa Paredes et Chema Prado

Photo Copyright Blandine Soulage Rocca

Tournage Sortie d'usine - Xavier Dolan

Photo Copyright Blandine Soulage Rocca

Tournage Sortie d'usine - Gérard Collomb et Pedro Almodóvar

Photo Copyright Jean-Luc Mège

Tournage Sortie d'usine - Rossy De Palma, Isabella Rossellini, Pedro Almodóvar, marisa Paredes et Bérénice Bejo

Photo Copyright Jean-Luc Mège

Tournage Sortie d'usine

Photo Copyright Jean-Luc Mège

Tournage Sortie d'usine

Photo Copyright Léa Rener

Tournage Sortie d'usine - Gilbert Melki

Photo Copyright Léa Rener

Tournage Sortie d'usine - Bérénice Bejo

Photo Copyright Léa Rener

Tournage Sortie d'usine - Pedro Almodóvar

Photo Copyright Bastien Sungauer