---
PostED THE 17.10.2014 AT 10:50AM

---
Néo's in town. The messiah of the Matrix trilogy held the title role Thursday in this daily superproduction that is the Lumière festival. The purpose of his visit? The presentation of Side by Side, a documentary he produced on the digital future of "our father's" cinema.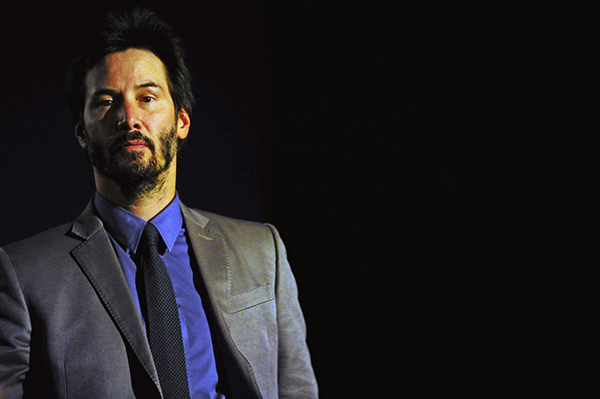 © Institut Lumière / Photo Olivier Chassignole

For a hundred years, there was only one way to make a movie: with film. And in the last twenty years, the emergence of digital technology has seen the invention of the Lumiere brothers gradually edged out by the Wachowski brothers, who were among the first, especially at the time of The Matrix, to revolutionize ways of making a film. They are among the dozen renowned directors who agreed to speak in Side By Side by Chris Kenneally, a fascinating documentary about the argentic-digital debate. Keanu Reeves, revealed to most of us in Point Break, proved to be an insightful and passionate interviewer. "He also has a talent for it: making people we went to meet feel comfortable," commented Chris Kennedy. "Without him, we could not have interviewed as many filmmakers - they're all extremely busy."


That's putting it mildly… George Lucas could only give the actor half an hour to do the interview, scheduled three months earlier. "For me, it was wherever he wanted, whenever he wanted. And when I got there, we ended up spending an hour together. That's double the time," Reeves jokes. "Lucas is the digital Zeus! "


James Cameron (Titanic), David Fincher (Fight Club), Martin Scorsese (Gangs of New York), David Lynch (Wild at Heart) and Steven Soderbergh (Ocean's Eleven) are some of the directors who have opened their doors to the actor-turned-film journalist. And then there's Christopher Nolan "who, after checking his schedule for the coming year, concluded he didn't have a single minute to give us," reveals Chris Kenneally. "So we just had to wear him down," says Reeves. "I sent him a typed letter, and one day I ended up doing the interview in twenty minutes at the cafeteria during the lunch break on the set of Batman.


David Lynch claimed that working with digital, due to its mobility, its immediacy, gives "a more intimate character to his work, by making it visible earlier; closer."


At a time when the switch to all-digital is rapidly becoming reality, the actor said he felt he was "the first to ask his peers, 'How are do you feel about it?' 'What do you think of this irreversible change?' In American film schools, super 8, 16 or 35 mm cameras are no longer used at all. Between 70 and 90% of American theaters screen exclusively digital films. In Hollywood, film labs are closing, while who that run them are forced to charge exorbitant rates to survive." Less than two years ago, Reeves made the transition to directing (Man of Tai Chi). "And I shot the film in…digital. Because when I speculated shooting it with film, my producer's answer was an irrevocable "No! "Laughing, he pounds his fist on the table to drive the point home. The charming actor had just regained the upper hand.


What does it mean to Keanu Reeves, to be here in Lyon? "Chris and I had the impression we were coming back to the birthplace of where it all started. Everyone who has been involved in the cinema until today, in a certain way, has been born here."


Carlos Gomez