---
PostED THE 17.10.2014 AT 2:24PM

---

A look back at Michael Cimino's master class.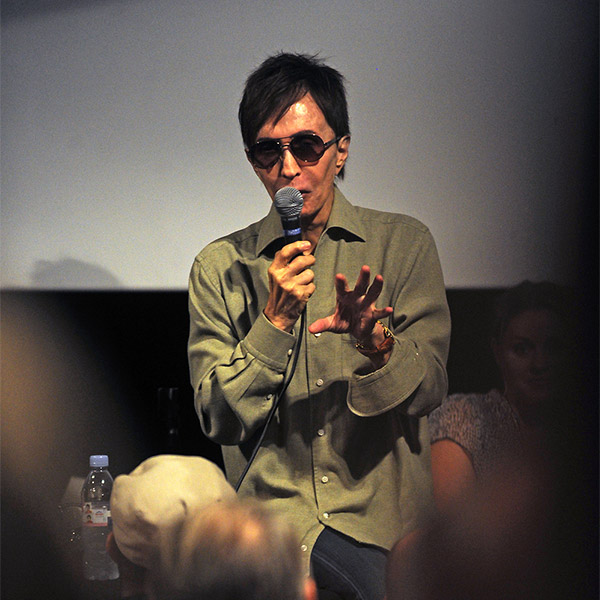 © Institut Lumière / Photo Olivier Chassignole

He walked into the room singing, "I Love You Baby" by Frankie Vallie, with the enthralled audience, immediately under the spell of his peculiar charm. Dismissing all accepted protocol of a standard Q&A, Michael Cimino proceeded to give an amazing master class. Fans - some of whom had followed his career from the start, and others, new young adepts wanting to discover the secrets of the filmmaker - asked all the questions their hearts' desired. Coming out of the session, we saw young admirers astonished to have received advice from the filmmaker. Highlights of a memorable master class…


"You have to be crazy to write a script.
Taken aback, and surely a bit frightened by this declaration, members of the audience asked, "Is madness really necessary?" Cimino explained that writing requires being alone in a room all day. Everything must be done alone from making coffee to sharpening pencils... and no one will come to your aid if at the end of the day you come up with an empty page.


"You can't make the audience cry before being able to make them laugh."
The first rule to follow according to Cimino in order to write a good script. If we love the protagonists in The Deer Hunter (1978), it's because we follow them in their everyday life, gradually becoming friends. "The only thing that interests me is people," states the director. "Not ideas, but people. In Madame Bovary, do we remember the ideas put forward by the novel?


No, we only remember Emma. It's the same in Anna Karenina. In Gone with the Wind, do you remember the Civil War? No, you remember Rhett and Scarlett, and the famous 'Frankly, my dear, I don't give a damn.' Great books and great films focus on people."


"To write, you have to dig relentlessly within yourself."
To write, you have to know about the subject, Cimino said, citing the example of Tolstoy. The author was part of the Russian court before making it the subject of his novels. "Everything comes from within," he insists, "so be patient with yourself, but go deep into your being. It is often painful and uncomfortable, but you have to do what it takes until you can get there."


"The best film is always the one we haven't made yet."
When asked whether he intends to make a new film, Cimino's mood became more somber. "For twenty years I have tried. I write every day. But it is a process of great pain, almost suicidal. So you have to keep your sense of humor, keep singing and dancing, because if you stop dancing, you're dead."


"Man's Fate is one of the greatest books of the 20th century."
Asked about his project to adapt Man's Fate, Michael Cimino explained the difficulty of adapting the book by André Malraux. He reminded us that many filmmakers have made an attempt: over fifty scripts were written, but all of them failed. "There is no dramatic structure in the novel. It's like trying to adapt Cicero! We must draw out from the book things that had an effect on your mind, and rewrite it, while still maintaining the same level of intelligence and quality as the original. You see the problem! "


"To become a good director, take dramatic arts classes."
A young man ventures to ask how Cimino directs his actors. "Why? Do you want to become a filmmaker?" he asks. A shy "yes" makes the director regain his seriousness. To understand the actors, they must be studied, he advises, telling him to read the book "The Actor Prepares" by Stanislavski. "If you know the art of the game, you know how to work with them."


"I always wanted to make a musical."
Cimino imitating Frankie Valli quickly attests to his great interest in music. Cimino raves about the magic of Fred Astaire and Ginger Rogers, mentioning that the former, a true perfectionist, post-synchronized every step after having danced for the camera.


" No one has ever seen Clint Eastwood laugh. Your mission is to get him to laugh."
This is the only point addressed by Cimino to Jeff Bridges on Thunderbolt and Lightfoot (1974). Jeff Bridges thus became the first person to make the darkly moody Eastwood laugh.


"John Ford is my brother, Kurosawa my uncle, and Visconti my father."
An eloquent reply to answer a question about his cinema lineage. "Who is your son?" then asks an audience member. "I don't have one yet," says Michael Cimino, bringing the remarkable master class to a close.


Elsa Colombani