---
PostED THE 18.10.2014 AT 3:20PM

---
On Friday, a very enthusiastic audience attended an exceptional meeting with Pedro Almodóvar at the Célestins Theater, just hours before the Lumière Award ceremony.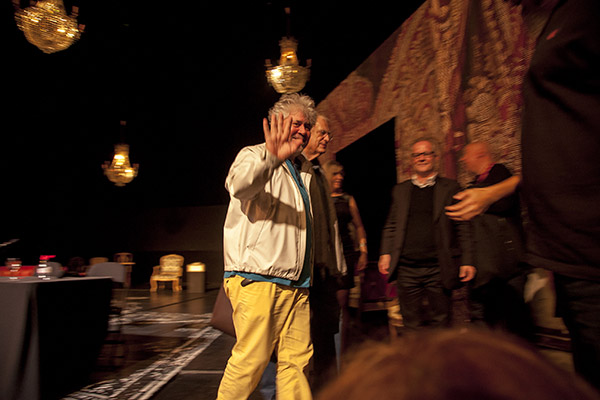 Photo : Bastien Sungauer

Marisa Paredes, Elena Anaya and Rossy de Palma, three leading actresses of the Spanish director, Agustin Almodóvar, his brother, and Chema Prado (whose photographs are currently on display at the gallery on rue de l'Arbre Sec) were in the theater to lend him support. For over an hour, Pedro Almodóvar answered questions asked by Bertrand Tavernier and Thierry Frémaux, demonstrating an exemplary humor and modesty. Highlights.




On his relationship with the other arts:
"I touched every artistic discipline as an amateur. As a child, I wanted to be a painter; I've written all my life; I wanted to build houses; I sang punk. All these frustrations have encouraged me to become a director, because a director uses all the arts."


On the Movida:
"In 1977, it was the beginning of a new Spain, the opposite of what we had known, an explosion of freedom. At the time, I was young and it allowed me to experience many things that have subsequently driven my work. The change that the Movida made us feel was almost tactile. It was an experience beyond wonderful. We let go of the fear that we knew. It was the other Spain, the Spain of Franco that put that fear in us. This new equilibrium was enjoyable and it was well deserved."


Had he been born in another country:
"I would have been a filmmaker. Since my childhood, I realized that my vocation was to tell stories through pictures. If I had been born in the United States, I would have made an underground movie with my friends: transvestites, transsexuals and drug addicts. Then I would have done nothing for thirty years, and I would have lost myself, trying to make films with other actors. If I were English, I would have made interesting films, but confidential ones. If I were Turkish, I might have made ​​a film so interesting that Thierry Frémaux would ask me to Cannes, or perhaps my film career would be over. But in any case, even if I had made ​​a film about nothing at all, whatever the country, there will have been one European, just one, who would see it: Bertrand Tavernier."


If he would be capable of working for a studio, like in the United States:
"The director must be the one who leads. A film must be built on a unique perspective, that of the director. When other points of view come into play, it's chaos. I would have been unable to beat the system. Maybe I would have made ​​B-movies! "

On Truffaut's idea that we start a film with a dream, and by the end, our only concern is making the least amount of compromises possible:
"All directors begin with a dream that starts to materialize with the script. Then it's a journey, an adventure, where anything can happen. We can even die, as in Truffaut's Day for Night. The dream disappears and becomes something unexpected, exciting. So I bid farewell to the dream and I welcome this new creature. I need to go through these stages to see the story I wanted to tell. What's important is that the life of this creature is taking shape."


If he always tries to renew the originality that he's known for:
"Everyone does things his own way. I did not decide in advance. I am genuinely a director in the sense that I could not do otherwise. I am self-taught; I learned things by doing them. This also causes a feeling of insecurity because I did not learn my trade. I am incapable of responding to a command."


On the moments of joy when he is touched by what's happening during the shoot:
"On Volver and Broken Embraces especially, I felt this immeasurable pleasure. The team feels these moments too; it is a joy that can be read on their faces without the need to say anything. I think it's one of the reasons why filmmakers become addicted to their craft. These magic moments during takes and filming- we try to relive them. We always have a nostalgia for those times."


If he'll retire someday;
"It is a very difficult moment in everyone's life, to retire. I have great respect for filmmakers who continued till the end even if it produced nothing new. There are, of course, exceptions. I hope to be among them. I have a concrete image that illustrates this hope: that of John Huston, in his wheelchair with his oxygen mask, shooting The Dubliners, hope intact. The film is one of the few exceptions where the cinema can be compared on equal footing with literature. This image of John Huston is what I aspire to become. But not before 80! "


Elsa Colombani