---
PostED THE 15.10.2014 AT 1:17PM

---
To discuss the French society of yesteryear while rediscovering certain rare films is to understand what we are - and have become - as French citizens. In a handful of hardly-seen films chosen by Bertrand Tavernier, we discover that young girls were lost teenagers, that Parisian nights could be a blur of drugs and sex, and that young husbands could full of passion… Just like today!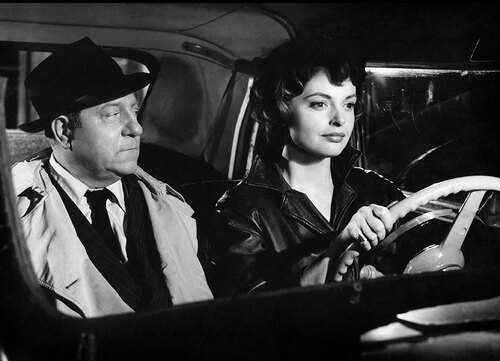 How did you select these French films?
Bertrand Tavernier: First of all, what ties these films together is that they offer deep and very specific, unique roles to their actors. In The Night Affair (Le Désordre et la Nuit, Grangier, 1958), Jean Gabin has a role in a compelling love story, very bold for its time, instead of the moralist role he is usually associated with. He plays a cop who falls in for a drug addict, more or less mixed up in a criminal case, sleeping with her on the first night... People will be likewise surprised by Michèle Morgan in Nightclub Hostess (L'Entraîneuse, Valentine, 1939) where she plays the hostess who becomes the average girl while on vacation. The film is astonishing in its modernity and dignity, its dramatic power.
There is also Bernard Blier in the Café du Cadran (Gehret, Decoin, 1946), in the role of a young tormented husband
B. T: Bernard Blier is indeed someone we always cast in comedies or as a supporting actor in dramas, whereas in this film he is just right for the part, he's organic.
He radiates an incredible sense of truth… So these films all help us discover or rediscover these actors who are too often treated in a stereotypical way. This section of the festival program is also made to shake up preconceived notions.
The films you have chosen have another point in common: they all paint a portrait of France.
B. T.: They all contain a sociological reality. The Night Affair involves a mixing of levels of society, but subtly, without saying "Hey! Look! We're breaking taboos"! No, it's done with a sort of quiet assurance and clarity… All these qualities made me want to pick these titles. It is also clear that the Café du Cadran talks about French society with a tremendous accuracy. This film paints a picture of a France with its hotels, its cafes, showing the attitudes of people who inhabit these very specific places… Woman of Evil (Le Diable souffle, Gréville, 1947) is a more marginal film. It talks about a France that exists, but in a very, very, very indirect way, while The Night Affair speaks frankly about drugs, sex, about a policeman facing a milieu still recently involved in the Collaboration. As for Gréville, he prefers closed worlds, secret passions. He wants to show how desire dictates every emotion. The film's characters are stuck on an island. One of them is wanted by the pro-Franco Spanish police. Another, played by Charles Vanel, is a kind of anarchist in voluntary exile who brings home a third marginal person, a degenerate character, who we don't doubt is a prostitute. Somehow, these three characters are society rejects. Therefore, we still end up talking about our world, even in a focusing on the people it rejects.
Virginie Apiou