---
PostED THE 15.10.2014 AT 11:42AM

---

An interview with Michel Legrand on the occasion of his master class at the Lumière festival.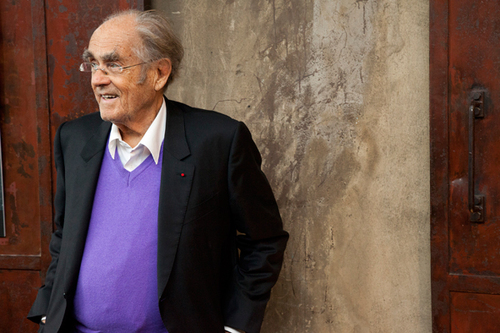 Photo : Bastien Sungauer


The recent staging of Umbrellas of Cherbourg at the Théâtre du Châtelet in Paris demonstrates to what extent the scores you composed for Jacques Demy can exist without the films. Do you have other similar projects?

When you play music by itself, it must be of the same quality as the music for a concert. Music should be able to be played without the images. We did only four concerts at the Châtelet, but they were so successful, we could have done ten or twelve days. We will be back in June of next year, and we will do eight. And we'll take you all over France and all over the world with this show. The singers are sublime; Nathalie Dessay is terrific in the role of the mother.


Was the period in which you worked with Jacques Demy more carefree than when you left for Hollywood?

No. Let me tell you a story. When I worked at the Conservatory in Nadia Boulanger's class, I absolutely wanted to know how to write great works. So I took special course in music analysis: we studied how the music was written. One day, Igor Stravinsky comes to Paris to conduct his works at the Théâtre des Champs-Elysées. Nadia Boulanger, a good friend of his, brought us along to attend his rehearsals. During a break, I asked him, "Maître, have you read Boulez's book on the Rite of Spring?" He replied, "No, I skimmed it. It's strange because Boulez identified a reason for every sentence I wrote in the Rite and billions of other things I had never thought of." Then he said something that changed my life: "When you are a true creator, you don't really know what you're doing." A miraculous mantra! So I dropped out of the music analysis class and just allowed myself to write.


Could you share a memory with us of The Go-Between by Joseph Losey, for which you composed the score, and which won the Palme d'Or at Cannes?

It's a funny story. Joseph Losey had sent me a telegram - he never used the phone - asking me to come to London. He had just finished his film and wanted me to do the music. I see The Go-Between in London and find it superb. During a dinner at his place, he hands me a record: it had the kind of music they played in the brothels, kind of sexy music. Losey wanted this type of music for his film. "If that's what you want, I'm out because that I won't do it" I told him. He insisted, so I asked him to let me do something else. He finally agreed. Six weeks later, I come back with my sheet music. And he didn't like at all! I record the entire score, despite his protests. I was firm with him: "You asked me to do music, and I did it. You owe me a favor in return: do the mixing, and when you're done, we'll listen to it together and make a decision." I return to Paris, and months go by without news. In April, I discover that the film is selected for Cannes. In May, the film wins the Palme d'Or. And I still didn't know if he had used my music! The next day, I received a telegram of 200 lines from Losey, apologizing. I replied, "How dare you treat your musicians like that! I won't want to work with you again. "However, we became friends again afterwards, and I composed for him afterwards.

Elsa Colombani