The Lumière festival was launched last night, as per tradition, by a series of guests who perfectly incarnate the philosophical vibes of the popular event: Eclecticism and simplicity.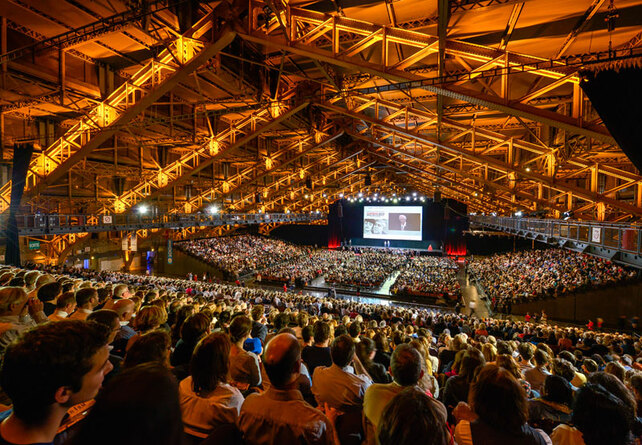 © Institut Lumière / Photo Anouck Nicolas - Jean-Luc Mège Photographies

Stéphane Audran (who will discuss Claude Sautet during the festival as well as Bernard Lecoq) rubbed shoulders with Michael Cimino, who was not far from composer Michel Legrand. The quintessential comic French actor-director of the 1970s, Pierre Richard, took a seat close to the new generation of French filmmakers, Samuel Théis and Mary Amachoukeli, directors of Party Girl.

At a time when the crowd was gathering and people were making their way to their seats in La Halle, other members of the film industry, like producers Michele Halberstadt or Manuel Chiche were chatting with Canadian-Australian filmmaker Ted Kotcheff, the latter attending Lumière to discuss Wake in Fright, among other things.

With the crowd finally seated and settled, the lights were dimmed way down low for the opening ceremony, where we saw a clip of the Krémos family of acrobats, filmed by the Lumière brothers, and a burlesque tribute to Alain Resnais with an extract of a purely delightful dance performed by Laurel and Hardy, adored by Resnais.
But the Lumière festival would be nothing without the resonant strength of the cinema, rekindled every year, by paying tribute to a great personality of international film. This year, the American actress Faye Dunaway came to embody the spirit of Lumière 2014, that of the nature of the event and its fans. "Without you, I would not be the same Faye Dunaway," she declared in a voice choked by emotion in a Halle Tony Garnier ablaze with light and packed till the rafters. The Lumière festival 2014 is indeed open!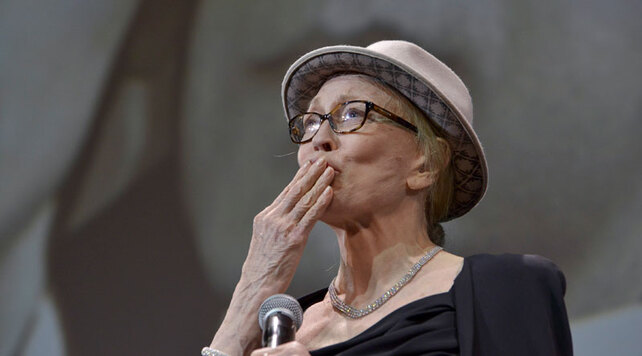 © Institut Lumière / Photo Jean-Luc Mège Photographies

OPENING NIGHT PHOTO GALLERY
La Halle Tony Garnier

Copyright Institut Lumière / Photo Loic Benoit

Copyright Institut Lumière / Photo Sandrine Thesillat / Jean Luc Mège

Copyright Institut Lumière / Photo Jean-Luc Mège

Clotilde Courau

Copyright Institut Lumière / Photo Sandrine Thesillat / Jean Luc Mège

Michael Cimino

Copyright Institut Lumière / Photo Sandrine Thesillat / Jean Luc Mège

Laetitia Casta

Copyright Institut Lumière / Photo Sandrine Thesillat / Jean Luc Mège

Valérie Mairesse

Copyright Institut Lumière / Photo Sandrine Thesillat / Jean Luc Mège

Thierry Frémaux, Virginie Efira et Tonie Marshall

Copyright Institut Lumière / Photo Loic Benoit

Michael Cimino

Copyright Institut Lumière / Photo Olivier Chassignole

Michael Cimino

Copyright Institut Lumière / Photo Blandine Soulage-Rocca

Laetitia Casta

Copyright Institut Lumière / Photo Olivier Chassignole

Stéphane Audran

Copyright Institut Lumière / Photo Blandine Soulage-Rocca

Lucien Jean-Baptiste, Mélanie Doutey et Pascal Elbé

Copyright Institut Lumière / Photo Blandine Soulage-Rocca

Virginie Efira

Copyright Institut Lumière / Photo Blandine Soulage-Rocca

Faye Dunaway et Thierry Frémaux

Copyright Institut Lumière / Photo Olivier Chassignole

Thierry frémaux et Faye Dunaway

Copyright Institut Lumière / Photo Blandine Soulage-Rocca

Faye Dunaway

Copyright Institut Lumière / Photo Olivier Chassignole

Jean-Hugues Anglade

Copyright Institut Lumière / Photo Olivier Chassignole

Julie Gayet

Copyright Institut Lumière / Photo Olivier Chassignole

Richard Anconina

Copyright Institut Lumière / Photo Blandine Soulage-Rocca

Vincent Pérez

Copyright Institut Lumière / Photo Loic Benoit

Pierre Richard

Copyright Institut Lumière / Photo Loic Benoit

Stéphane Audran

Copyright Institut Lumière / Photo Olivier Chassignole

Ted Kotcheff

Copyright Institut Lumière / Photo Loic Benoit

Jean-Hugues Anglade

Copyright Institut Lumière / Photo Loic Benoit

Copyright Institut Lumière / Photo Olivier Chassignole

Faye Dunaway et Jerry Schatzberg

Copyright Institut Lumière / Photo Loic Benoit

Pierre Richard

Copyright Institut Lumière / Photo Blandine Soulage-Rocca

Faye Dunaway

Copyright Institut Lumière / Photo Anouck Nicolas / Jean-Luc Mège

Gérard Collomb, Faye Dunaway et Thierry Frémaux

Copyright Institut Lumière / Photo Sandrine Thesillat - Jean-Luc Mège

Virginie Efira

Copyright Institut Lumière / Photo Blandine Soulage-Rocca

Laetitia Casta

Copyright Institut Lumière / Photo Blandine Soulage-Rocca

Mélanie Doutey

Copyright Institut Lumière / Photo Sandrine Thesillat / Jean Luc Mège

Copyright Institut Lumière / Photo Sandrine Thesillat / Jean Luc Mège

Laurent Gerra

Copyright Institut Lumière / Photo Sandrine Thesillat - Jean-Luc Mège

Mélanie Doutey, Laetitia Casta et Danièle Heymann

Copyright Institut Lumière / Photo Bastien Sungauer

Copyright Institut Lumière / Photo Bastien Sungauer

Danièle Heymann, Jerry Schatzberg et Laurent Gerra

Copyright Institut Lumière / Photo Bastien Sungauer

Mélanie Doutey, Laetitia Casta, Danièle Heymann et Jerry Schatzberg

Copyright Institut Lumière / Photo Bastien Sungauer

Copyright Institut Lumière / Photo Sandrine Thesillat - Jean-Luc Mège

Thierry Frémaux, Faye Dunaway, Bertrand Tavernier et Jerry Schatzberg

Copyright Institut Lumière / Photo Bastien Sungauer

Copyright Institut Lumière / Photo Anouck Nicolas / Jean-Luc Mège

Copyright Institut Lumière / Photo Jean-Luc Mège

Faye Dunaway

Copyright Institut Lumière / Photo Jean-Luc Mège

Faye Dunaway et Thierry Frémaux

Copyright Institut Lumière / Photo Jean-Luc Mège

Bertrand Tavernier, Faye Dunaway et Thierry Frémaux

Copyright Institut Lumière / Photo Jean-Luc Mège

Laetitia Casta

Copyright Institut Lumière / Photo Olivier Chassignole

Copyright Institut Lumière / Photo Olivier Chassignole

Laetitia Casta et Gérard Colomb

Copyright Institut Lumière / Photo Loic Benoit

Lucien Jean-Baptiste

Copyright Institut Lumière / Photo Olivier Chassignole

Laeticia Casta

Copyright Institut Lumière / Photo Loic benoit

Pascal Elbé

Copyright Institut Lumière / Photo Olivier Chassignole

Mélanie Doutey

Copyright Institut Lumière / Photo Loic Benoit

Mélanie Doutey

Copyright Institut Lumière / Photo Olivier Chassignole

Virginie Efira

Copyright Institut Lumière / Photo Loic Benoit

Zoé Félix

Copyright Institut Lumière / Photo Loic Benoit

Zoé Félix

Copyright Institut Lumière / Photo Sandrine Thesillat - Jean-Luc Mège

Julie Gayet

Copyright Institut Lumière / Photo Olivier Chassignole

Julie Gayet

Copyright Institut Lumière / Photo Loic Benoit

Tonie Marshall

Copyright Institut Lumière / Photo Sandrine Thesillat - Jean-Luc Mège

Elsa Zylberstein

Copyright Institut Lumière / Photo Sandrine Thesillat - Jean-Luc Mège

Elsa Zylberstein

Copyright Institut Lumière / Photo Loic Benoit

Nicole Garcia

Copyright Institut Lumière / Photo Sandrine Thesillat - Jean-Luc Mège

Jean-Hugues Anglade

Copyright Institut Lumière / Photo Olivier Chassignole

Mélanie Doutey

Copyright Institut Lumière / Photo Blandine Soulage-Rocca

Virginie Efira

Copyright Institut Lumière / Photo Olivier Chassignole

Bertrand Tavernier, Faye dunaway et Thierry Frémaux

Copyright Institut Lumière / Photo Anouck Nicolas - Jean-Luc Mège

Faye Dunaway

Copyright Institut Lumière / Photo Anouck Nicolas - Jean-Luc Mège